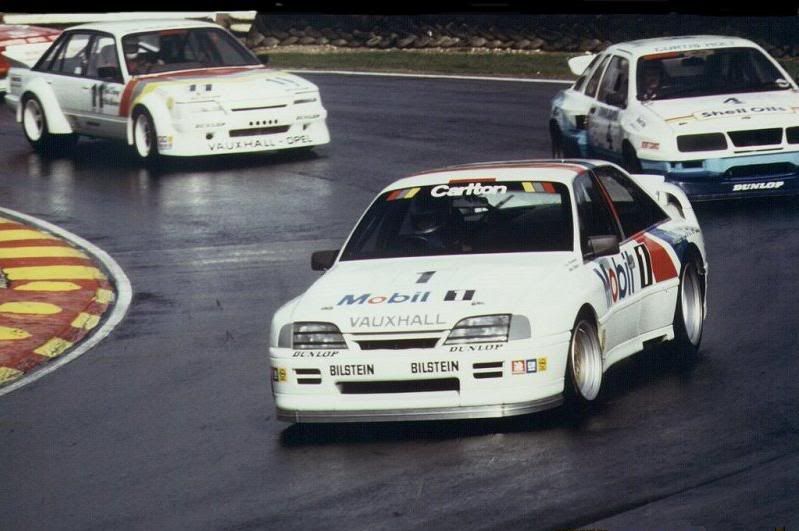 I thought i'd post this up as i was unsure if you guy's knew of this rare stunning cars existance....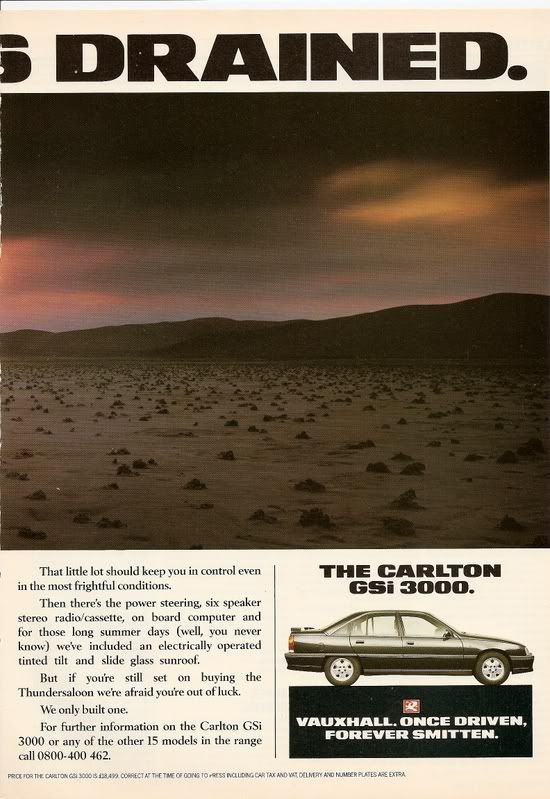 As a young boy growing up in the 1980's, i was easily impressed with this V8 Monster Vauxhall had created and then used to promote and sell its then flag-ship Vauxhall Carlton GSi 3000's....Maybe this car is to blame for my Carlton obesession!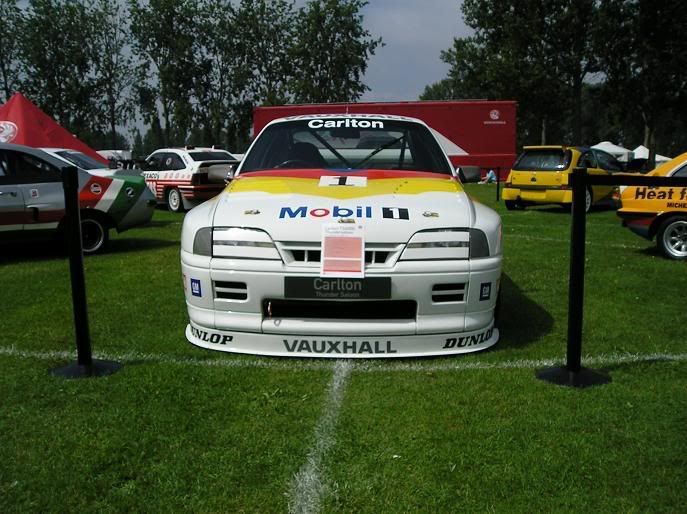 Dressed in spats, spoilers and covered by a brilliant white Kevlar overcoat, the TS6000 hides a menacing Detroit 6.0Litre V8 from a Chevrolet heart. The 600bhp thrust is contained by a simple yet effective live rear axle and halted by stunning 14inch frying pans that double up as brake discs. This was a serious blood and guts racing car!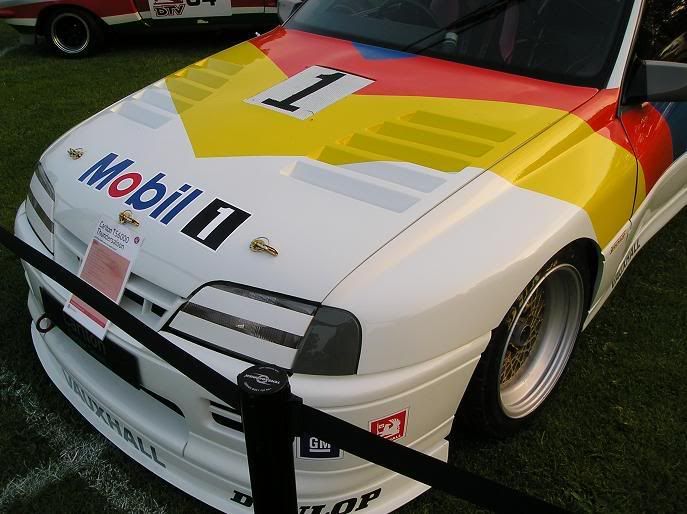 Its acceleration was awesome, it will hit 100mph from rest in just 8seconds. It can do 0 - 168mph in less than 25seconds, the mundane 0 - 60mph consumed in around 4seconds! This Carlton TS6000 was built by Dave Cook Racing Services, Sheriff Hutton, York, around a genuine Carlton bodyshell. This was a Carlton created by a factory and Dealer funded team to win the club racing Thundersaloon series. A search of the net will show you how successful Vauxhall Dealer Sport, racing manager Bill Cleland, Dave Cook Racing Services and Swindon Race engines have been.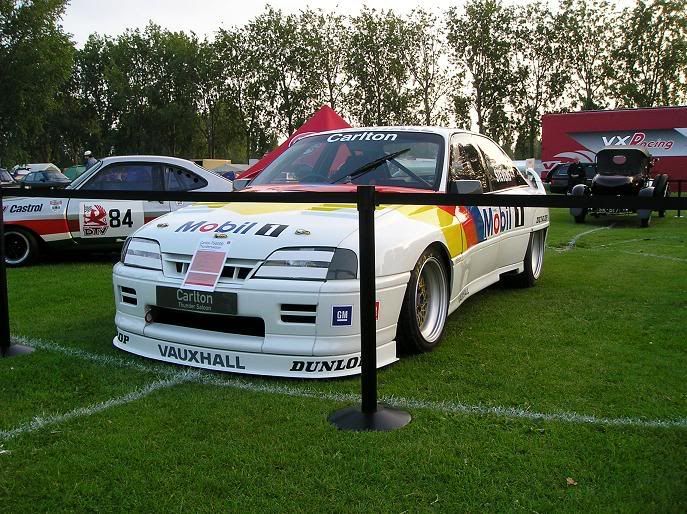 The car was built up for some appearances in the 1987 Thundersaloon series, in fact it won 4 races for John Cleland and Vince Woodman in that exploratory season, but the objective was always to prepare thoroughly for a full assault on the 1988 championship which paid dividends.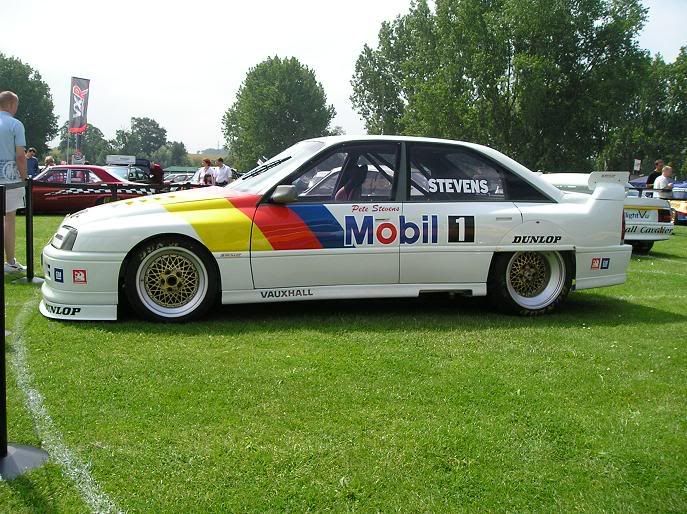 Externally it is all in Kevlar panel components, the appearance originally styled by the factory people at Luton with as few alterations from the standard Carlton shape as were practical for a racing car. The basic shell is in steel and is genuine Carlton, no stretched wheelbase or anything like that. Even the door frames are in steel, but the shell itself did have to be modified around the central transmission tunnel to accept an Xtrac-Hewland and DGB 5 speed gearbox. That is the same type of box as is used in Indy cars and has the handy feature of being able to drop the back off the gearbox for quick gear ratio changes. The clutch is a triple plate job and you will find the differential does not have a limited slip action, just a solid and permanent lockup.
The TS6000's body also had to be modified at the rear. In the middle it had to accommodate a live axle layout with what was regarded as a pretty straightforward 4link, Watts linkage, coil and damper layout. Up front the Carlton uses a strut and roll bar system derived from the Holden Commodore the team raced as a Senator back in 1986.
Both ends were damped by Bilstein and employed substantial roll bars to restrain an 1150kg race weight. The rear bar adjusts from the cockpit through a spectrum of 7 numbered positions. For anyone curious about the origins of the rear axle, which carries twin oil coolers.....crawl underneath the TS6000 when you see it at shows and you'll discover a familiar axle casing carrying the letters "F"...."O"...."R"...."D".....Hmmmm.....Nuff said there!
Up front, proceedings are dominated by that V8 engine sat in the TS6000's engine bay. The most obvious feature is that of the exhausts which are swept forward, but Swindon engines insisted it was really the only way to get a decent exhaust system fitted to that engine in the Carltons engine bay.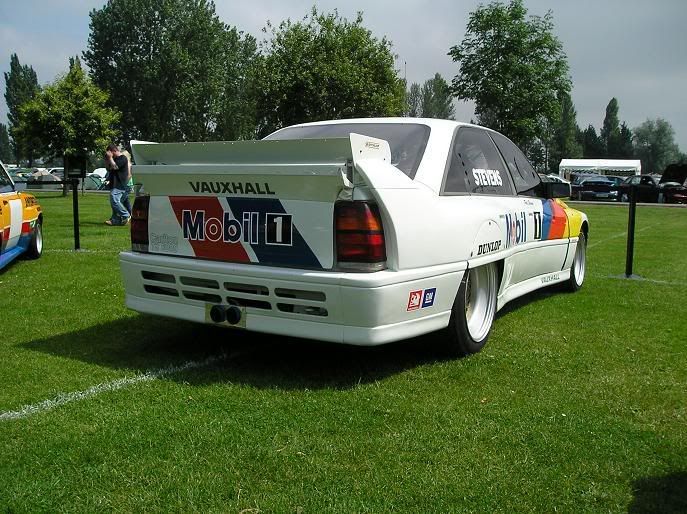 The exhaust note was restricted since a disqualification at Donnington in 1988. Even after its restriction, each time this V8 Carlton woffles away from stand still, it sounds like a freight train departing! After this disqualification, a second extensive exhaust note reduction had been achieved courtesy of a vast silencer box before the equally beefy twin side pipes on the passenger side skirting of the vehicle. The car no longer has this exhaust set up as you can see by the two rear pipes sticking out of the TS6000's slotted rear bumper!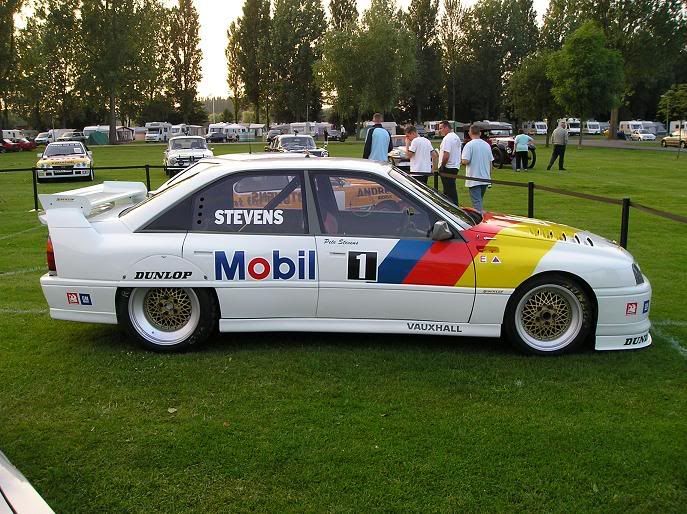 The engine is based on an all alloy block drawn from the Chevrolet Sports options. Bore and stroke is approximately 4inch bore and exactly 3.48inch stroke to achieve its capacity. Not many people know that a second engine was kept as a spare if required, but this was just 5.7Litres with much the same top end power as the 6000cc unit but with a lot less Torque with a comparatively primitive injection and management system.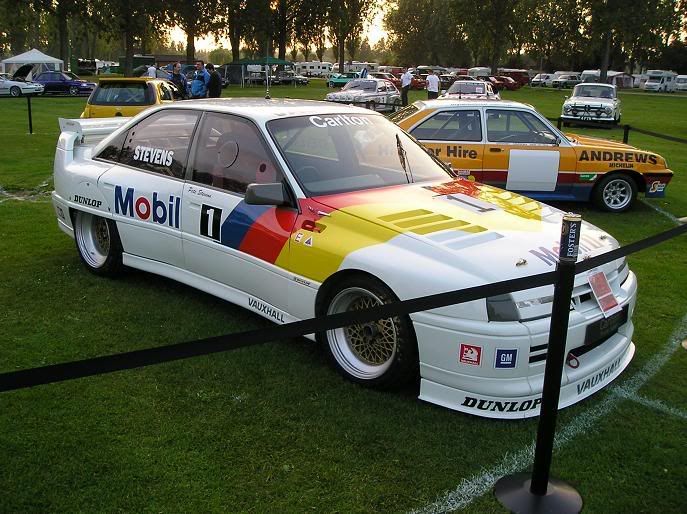 The 6.0Litre is a stretched version of the regular 5.0Litre/5.7Litre (302/350cu inch) Chevrolet family unit but sports orientated in alloy rather than production cast iron. The heads are also alloy Chevrolet stock that are nicknamed "Bow-Ties" to those in the know. Most of the internals are American classics like Carillo connecting rods and BRC steel crankshaft. The Swindon assembled V8 hides beneath the bonnet fed cold air induction trunking and box to feed the injection stacks and Hillborn inlet manifolding. It operates a 11.7 : 1 compression ratio after earlier problems with detonation had to be tackled to improve reliability and performance. That compression ratio comes courtesy of Cosworth pistons which were shipped back from the States to the UK.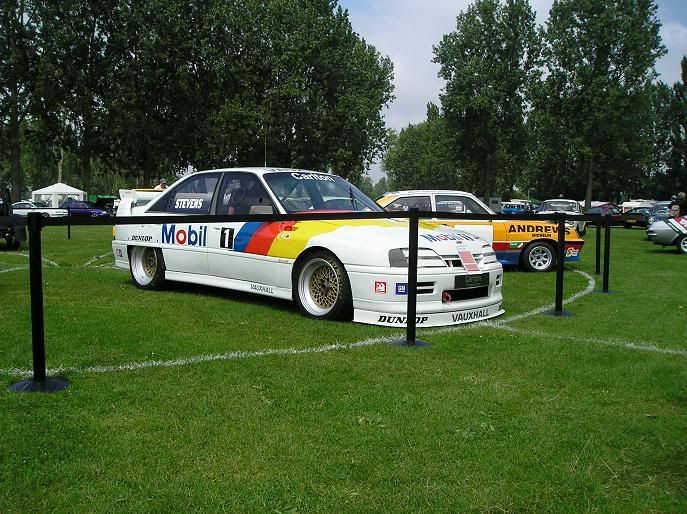 Maximum power is quoted as 600bhp around the rev-limiter upper setting of 7200rpm with support of at least 500lbs/ft of Torque at 4500rpm but there was still over 450lbs/ft of Torque available at 4000rpm! There are two separate ignition and injection management systems above the passenger footwell on the TS6000. There was a unique twin coil and amplifier system but you can also see that the spare basic system relies on a single coil. Only when the twin coil system is used does the management set up have full microprocessor mapped settings for maximum performance.
Externally the view is dominated by the front splitter spoiler and similarly wind tunnel developed rear wing which was the 3rd airdam/spoiler combination raced on this vehicle. Originally it had a Carlton GSi styled item which was replaced by a Capri RS3100 ducktail style item. The only answer to gain the required rear downforce was the 3 position adjustable blade, end plates and subtle glass fibre and alloy ridge along the length of the rear bootlid that you see today.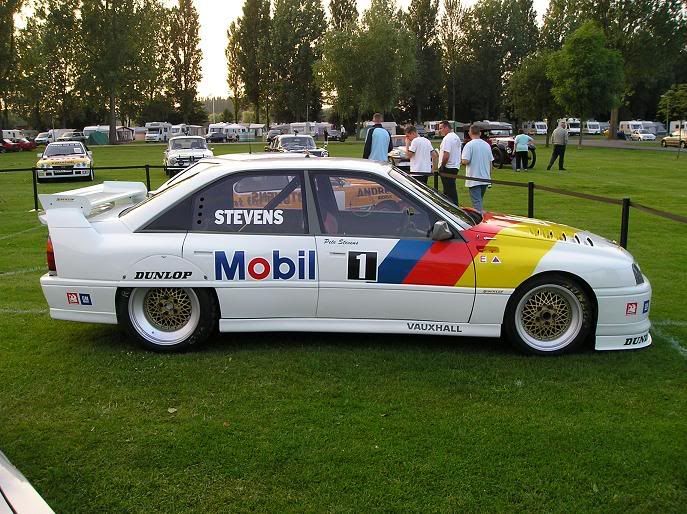 Those Dzus-detatchable rear quarter panel spats partially cover Jaguar Group C1 tyre dimensions. BBS supply the 19inch diameter x 15inch rear wheel and 17inch x 12inch up front. All of the wheels are clothed in Dunlop rubber and owing more to Jaguars World Sports Car programme than any other inspiration. That meant Kevlar construction radials....Not cheap i bet!
Steel and alloy fabrications were a Dave Cook Racing Services speciality, one that's emphasised by the construction of their own roll cage and the contents of that vast boot. When opened it reveals a 120Litre fuel tank and a dry sump lubrication tank, but to trace all the wanderings of the roll cage you would have to search right up to the front and rear suspension mounting points!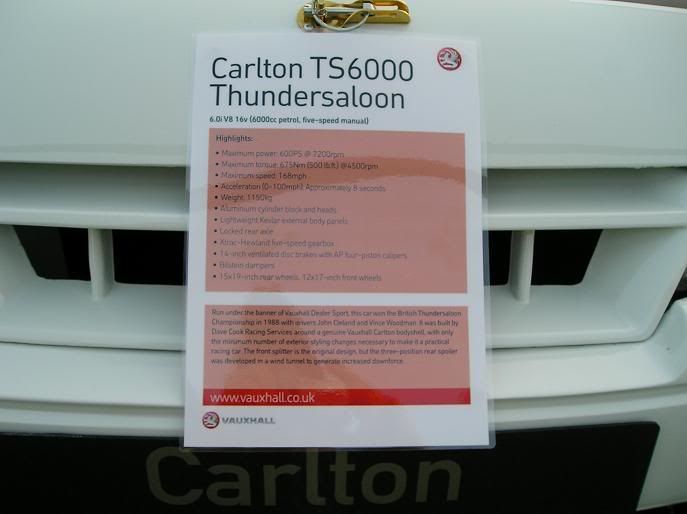 For those who cannot read that picture above....this below is what it says \/
Carlton TS6000 Thundersaloon

. 6.0i V8 - 16v (6000cc petrol, five-speed manual)

. Maximum power - 600PS @ 7200rpm

. Maximum Torque - 675Nm (500lbs/ft) @ 4500rpm

. Acceleration (0 - 100mph) - Approximately 8 seconds

. Weight - 1150kg

. Alluminium cylinderblock and heads

. Lightweight Kevlar external bodypanels

. Locked rear axle

. Xtrac-Hewland five speed gearbox

. 14inch ventilated disc brakes with AP four-piston calipers

. Bilstein dampers

. 15 x 19-inch rear wheels and 12 x 17-inch front wheels

Run under the banner of Vauxhall Dealer Sport, this car won the British Thundersaloon Championship in 1988 with drivers John Cleland and Vince Woodman. It was built by Dave Cook Racing Services around a genuine Vauxhall Carlton bodyshell, with only the minimum number of exterior styling changes necessary to make it a practical racing car. The front splitter is the original design, but the three position rear spoiler was developed in a wind tunnel to generate increased downforce.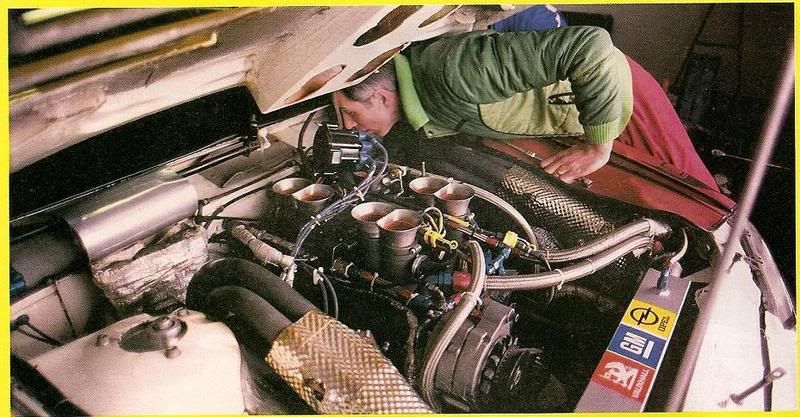 Behind the after-market chunky steering wheel, you'd be grasped in place by Sabelt 6 point harnesses and the OMP seat. The forwards view i guess would be exactly what you'd expect if you were the eyes of a great white whale! The outside shimmering Glacier white body panels contrast the gloom within the dark cockpit, with just 7 instruments for information, such as the things you would expect like oil temperature and oil pressure are monitored but any perspective Carlton TS6000 race car driver will have to look out for the back axle lubricants temperature exceeding 100degrees C, the warning point at which the lucky driver must click the switch for the axle coolers to come on.
For me its a real shame that they built only one, as i'd love to own my very own V8 Carlton TS6000! Wouldn't you??